SCMHRD MDP - Delivering the edge
A significant shift in the paradigm, from running profit-driven businesses to creating value has added a whole new dimension to the corporate outlook. Old tried and tested approaches are no long working and traditional business models are becoming obsolete at an alarming rate. In an increasingly value-driven world, continuous value creation has become the mantra for success. The SCMHRD MDP Wing strives towards this end to assist organizations keep up their pace by providing them with inputs based upon its academic expertise and research acumen. The MDPs are designed and delivered keeping in mind the imminent need of the hour as far as organizations are concerned. Relevant and pertinent aspects of business are given due importance. Over the years, the MDPs have been able to deliver competitive edge to the working executives and their organisations.
Not resting on its laurels though, SCMHRD constantly seeks opportunities to leverage upon its strengths to assist organisations in designing and delivering interventions in the shape of learning and development programmes. This in turn, augments the overall canvas of organisational efficiency, sustainability and success in the long run. In return, it only strengthens the academic acumen of SCMHRD.
Abridged list of workshops conducted -
| Sr. No. | Workshop Title | Participants |
| --- | --- | --- |
| 1 | Functional Capability Development Program for Mid level and Senior level Managers | Gudel India Pvt. Ltd. |
| 2 | Procurement and Supply Chain Management Training | Kalpataru Power Transmission Ltd./ Power Grid Company of Bangladesh |
| 3 | Program on Financial Market | PNB Metlife |
| 4 | Procurement and Supply Chain Management Training | Kalpataru Power Transmission Ltd. |
| 5 | Change Management and One-Voice Leadership training | Burckhardt Compression |
| 6 | Nalanda - Functional Capability Development Programme for HR, Finance and IT | Adani Group |
| 7 | Personal excellence for junior management officers | HPCL |
| 8 | Type at Work – Using MBTI® for Professional and Team Effectiveness | HPCL |
| 9 | Supply chain management – planning for excellence | Burckhardt compression (India) Pvt. Ltd. |
| 10 | General Management Program for Middle-Management Level (20 days) | Burckhardt compression (India) Pvt. Ltd. |
| 11 | Demand forecasting and planning | Tata Chemicals Ltd. |
| 12 | Inventory management & ware house performance | Tata Chemicals Ltd. |
| 13 | Special talent recognition | Honeywell |
| 14 | Advanced management program for entrepreneurs | Thermax Ltd. |
| 15 | Financial planning and customer service | Max Newyork Life Insurance Co. Ltd. |
| 16 | Effective Power - Point Presentation | ACC Ltd. |
| 17 | Lean - Six Sigma Green Belt Training Program | Aker solutions |
| 18 | Management Development Program | Cummins India |
| 19 | CRM | Metal junction Services Ltd. |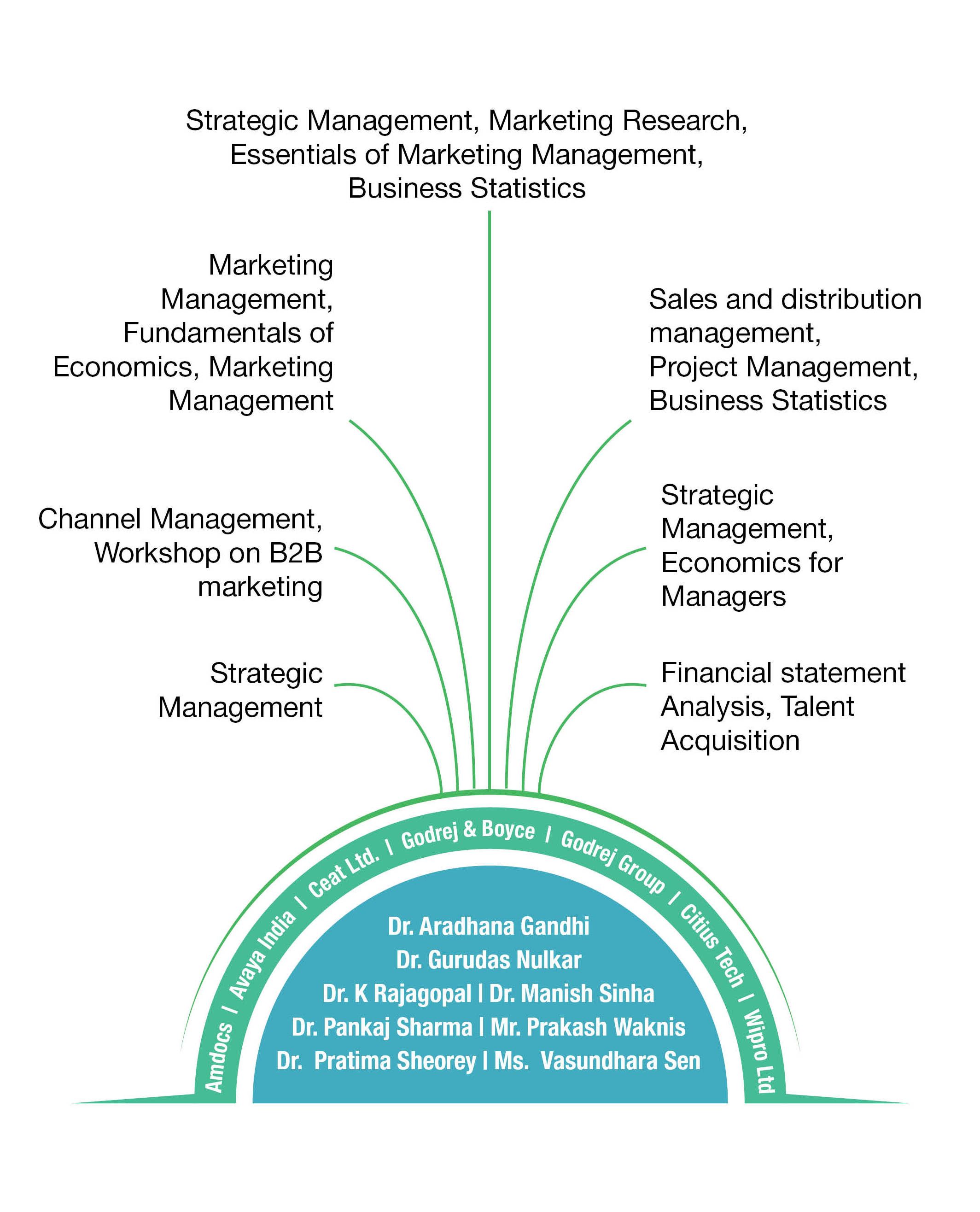 Open Programmes
SCMHRD conducts open programs in the area of Leadership Development, Conflict and Negotiation skill, Industrial Relations, Team Building, Sales & Marketing skills, HR Analytics, Finance for Non Finance, Warehouse and Supply Chain Management, etc. These programmes are in the nature of 'open-enrollment' courses with participation open to all practicing/experienced managers and/or executives.
The pedagogy employed involves various teaching methods such as case studies, simulations, role plays, closed group analyses, and applied learning projects, interspersed with lecture sessions on theory and practice. The sessions are essentially interactive, and participants are encouraged to question assumptions, identify opportunities and solve complex problems. The return on investment for the participants as well as the sponsoring organizations is high. The training motivates the participant to look at his own work with a new perspective and better skills to take up future challenges.
Custom Designed Programmes
SCMHRD also offer exclusive custom-designed programmes, to address specific corporate training mandates from individual organisations. Under this format, courses are designed in collaboration with the client organisation, and scheduled at a mutually convenient date and venue. Such programmes can be domain-specific as in Human Resource (HR), Sales & Marketing, Operations, Finance, Strategy, Leadership, Business Analytics, Infrastructure management, etc or inter-disciplinary, involving an optimal mix of multiple functional areas. Currently, SCMHRD is working with companies, creating cutting-edge training modules that give their employees the right skill sets that help them excel in the organization.
Programme details - June 2019 to May 2020

Sl. No.

Title

Name of the company

Duration [In Days]

Date

No. of Participants

1

Nalanda - Functional Capability Development Programme for HR, Finance and IT

Adani

28 days Residential Training

April 2019 - July 2020

107

2

Procurement and SCM Training

Kalpataru Group

4

Jun-19

30

3

Change Management and One-Voice Leadership training

Burckhardt Compression

4

Jun-19

2 batches of 20 participants each

4

Procurement and SCM Training

Kalpataru Power Transmission Ltd.

3

Sep-19

30

5

Program on Financial Market

PNB Metlife

1

Feb-20

110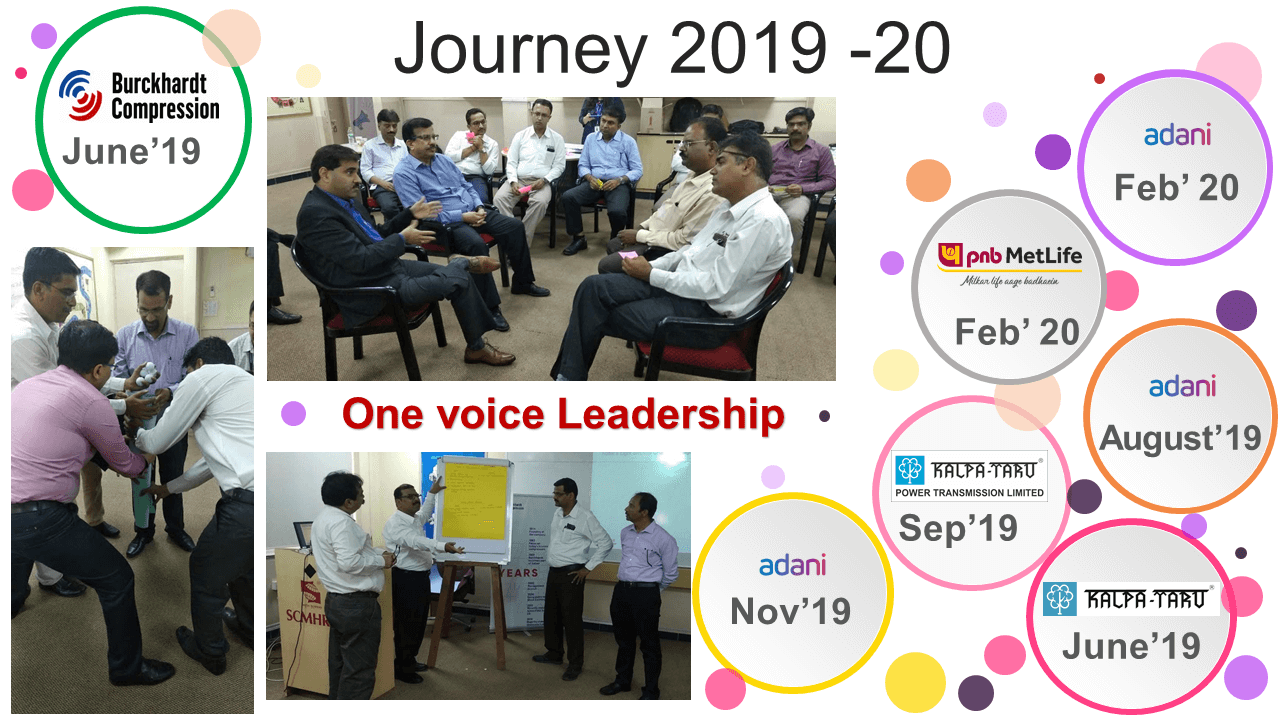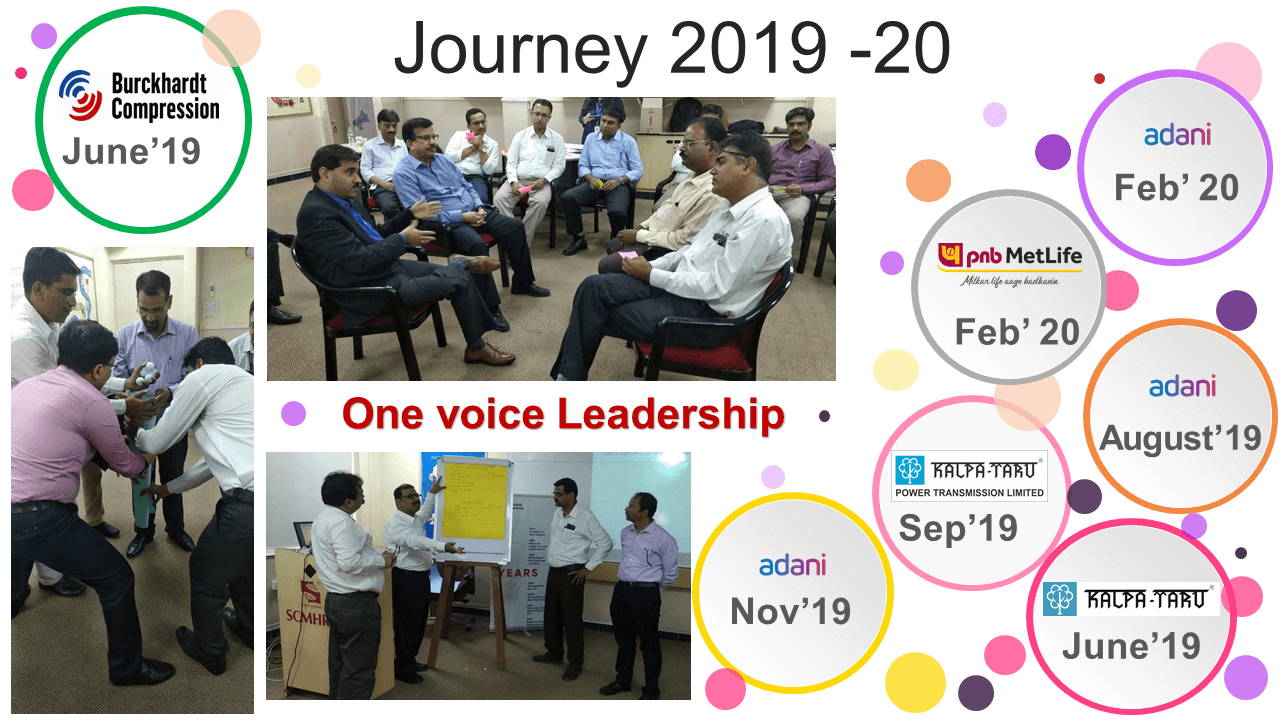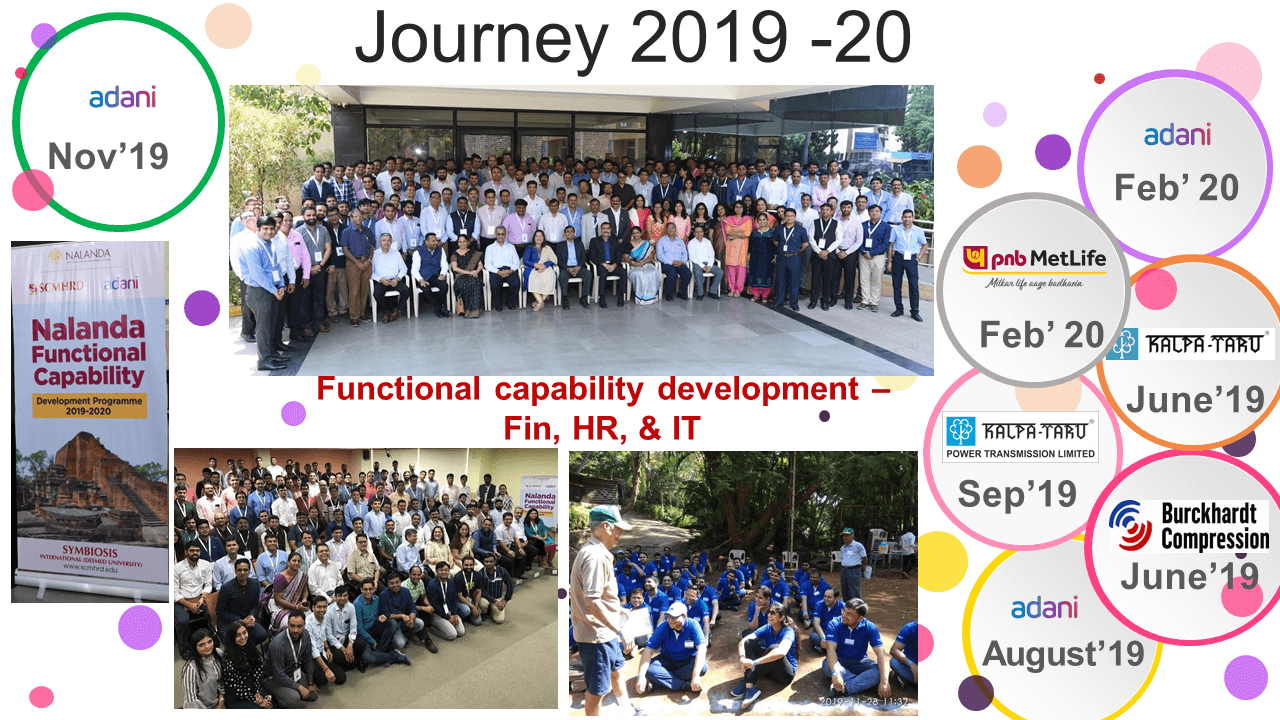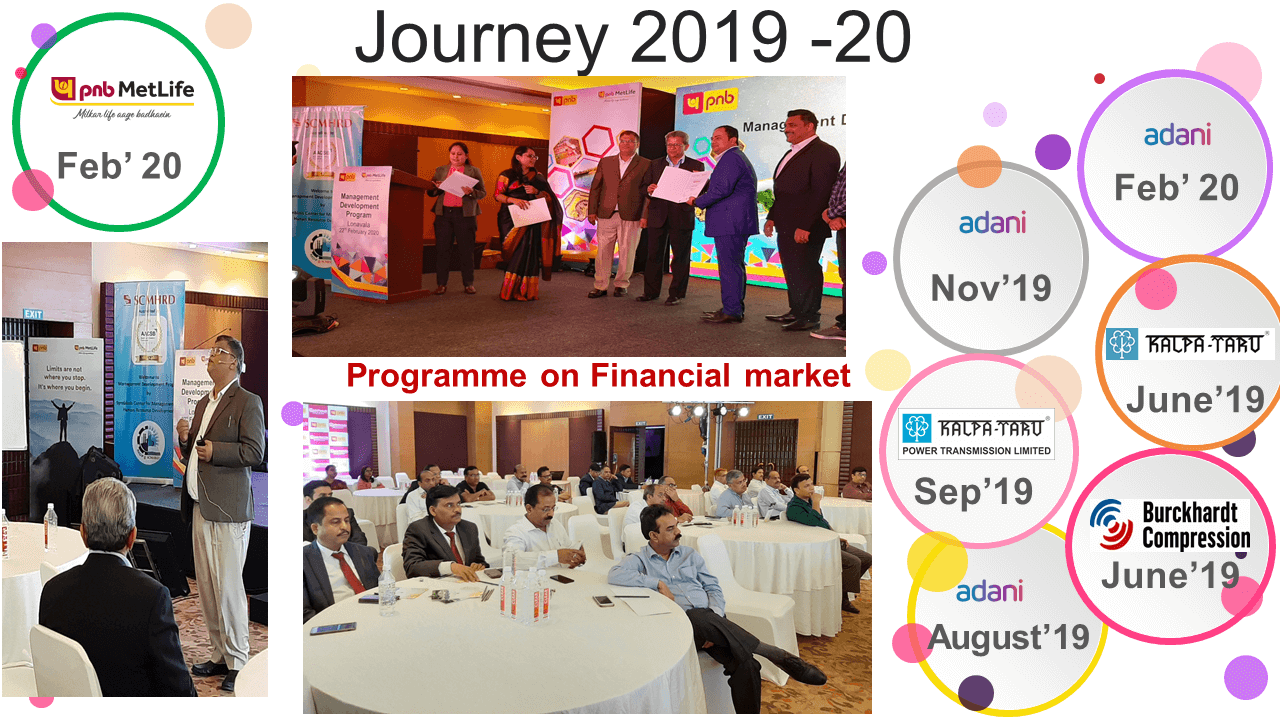 Adani Journey